Publications
Cycling in Quebec in 2015
The key resource to learn everything about bicycle use, infrastructure and the benefits of cycling in Québec »
---
Cycling in Quebec : Official Guide / 8th edition
New and improved 8th edition of the Cycling in Quebec guide : more detailed maps, better presentation of services available to cyclists (tourist attractions, bicycle retailers, etc.), more tourist accommodations and campsites Bienvenue cyclistes !MD – certified, etc. An essential travelling companion for anyone who wants to explore Québec on two wheels!



238 detailed maps
·5,300+ km of Route verte bikeways
·Regional cycling networks
·Accommodations, rest stops, parking facilities, visitor information centres, provincial/national parks and Villages-relais.

Bienvenue cyclistes! network
· Bicycle-friendly accommodations and campsites

Useful tips
· Intercity transport
· Ferries
· Shuttle and luggage transfer services

Must-see sights
· Tourist attractions
· Destinations in the Sépaq network
· Some of Quebec's most beautiful communities and gardens

[ In English ]

Order now

....................
Taxes and transportation fees not included, Canada only.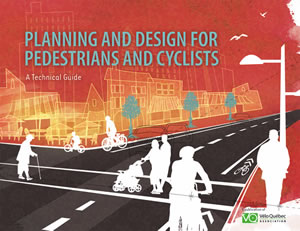 Planning and design for pedestrians and cyclist
This third revised and expanded edition contains an extraordinary amount of essential information for planning successful, effective bikeways. You will find all the key information on various topics: paths, lanes, shared roadways, intersection design, multiuse trails and infrastructure maintenance. New concepts are also explained: traffic calming, contraflow bike lanes, bike boulevards, etc.

132 pages, 90 photos, 66 illustrations.
order now | more info